Summer officially kicks off Thursday, June 21st, but we're already in the summer spirit! We're enjoying amusement parks, barbecue food, building sandcastles, longer days with more sunshine, playgrounds, summer reading, visits to the local ice cream shop, and weekends on the shore!
I'm here to share all the ways you can use essential oils and Young Living products this summer!
Summer Diffuser Blends:  
"Grapefruit Getaway": 4 drops Grapefruit, 3 drops Lavender, 2 drops Orange
"Honolulu, Hawaii": 4 drops Stress Away, 3 drops Cedarwood, 3 drops Citrus Fresh
"A Midsummer Night's Dream": 5 drops Citronella, 2 drops Lemongrass, 2 drops Tea Tree, 3 drops Geranium
DIY Room Refresher: 
"Beach House": Mix equal parts Grapefruit, Peppermint, Orange, Lemon, and Bergamot with distilled water.
Motion Sickness Preventive Blend: (from Essential Oils Pocket Reference, 7th Edition)
2 drops Peppermint Vitality, 2 drops Ginger Vitality, 2 drops Patchouli, 5 drops V-6 Vegetable Oil Complex (or carrier oil of your choice).
Rub blend on chest and stomach 1 hour before traveling via boat, car, or plane!
Mineral Sunscreen Lotion: 
Made with ingredients you can feel good about, Young Living's Mineral Sunscreen Lotion provides protection against UVA and UVB rays without harsh chemical ingredients. Instead, the non-greasy sunscreen offers broad-spectrum SPF 10 protection using naturally derived plant- and mineral-based ingredients, including non-nano zinc oxide—a physical UV blocker. The lightweight formula goes on smooth and stays water- and sweat-resistant for 80 minutes, so you can feel comfortable while you stay moving. With hypoallergenic ingredients and skin-loving essential oils—such Helichrysum, Carrot Seed, and Sacred Frankincense—this gentle sunscreen rubs on smoothly without a white residue, so you can effortlessly add it to your time outdoors.
Read directions before using!
* Concerned about the low SPF? Read this EWG (Environmental Working Group) article on what's wrong with high SPF.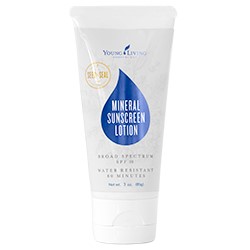 "Sandal Ready" DIY Foot Scrub: 
In a small bowl, mix ¼ cup + 2 TBS V-6 oil (or carrier oil of your choice) with 5 drops Bergamot, 3 drops Lavender, 2 drops Sacred Sandalwood, and 2 drops Wintergreen. Add mixture to ¾ cup raw sugar in a larger bowl and combine thoroughly. Store in an airtight jar.
When applying in the bath, you may want to use a pumice stone to speed up the exfoliation process; however, avoid scrubbing your calluses raw or removing them altogether.
HINT: Use about a tablespoon for each foot. Be careful! The scrub can make your shower slippery!
Source: Sugar Scrub
DIY Detangler: (For over exposure to the sun, harsh chemicals at the pool, and dry hair!)
Bring 2 cups of distilled water to a simmer without boiling. Combine the warm water and 1/2 cup Lavender Mint Conditioner or Lavender Conditioner in a 24 oz. spray bottle, shaking to combine. Add the recommended essential oils to the detangling base (see below for hair type), shaking once again to distribute.
Apply the detangler to hair as needed, using the bottle's spray attachment and focusing on the ends rather than the scalp, gently combing to dispense evenly throughout your hair. You can either rinse out the detangler or leave it in for extra conditioning. Style your hair as usual and enjoy the pleasant aroma of essential oils throughout the day!
Normal hair: 3 Cedarwood + 3 Frankincense OR 5 Geranium + 5 Sacred Sandalwood
Oily hair: 5 Tea Tree + 5 Clary Sage
Dry hair: 5 Ylang Ylang + 5 Myrrh
Source: DIY Hair Detangler Sprays
DIY Makeup Setting Spray: (Say goodbye to melty makeup and reapplications throughout the hot summer day!)
Combine 2 ounces water, ½ tablespoon vegetable glycerin (or carrier oil), and 6 drops of essential oils (see below for skin type) to spray bottle and shake well. Hold spray bottle about 12 inches from face and lightly spritz skin 2–3 times. Let dry. Enjoy!
Normal skin: Frankincense
Oily skin: Geranium OR Tea Tree
Dry skin: Myrrh
Source: DIY Makeup Setting Spray
Lavaderm After-Sun Spray:
Refresh and recover from a day in the sun. This naturally derived after-sun spray offers temporary relief from the pain and itching of minor burns, minor cuts, sunburns, scrapes, insect bites, and minor skin irritations.
Using menthol from mint, this spray soothes and cools the skin, providing immediate relief from the effects of outdoor activity. Plus, its moisturizing qualities—from ingredients such as aloe, Lavender essential oil, and Helichrysum essential oil—also help prevent peelng and leave skin feeling soft and smooth instead of tacky or sticky. With a vegan-friendly formula made without alcohol, synthetic fragrances, or synthetic colorants, it is ready for the whole family to use at the beach, on a hike, or during any outdoor playtime. Hey
Read directions before using!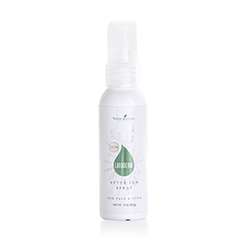 DIY After-Sun Spray:
Combine 1 1/2 tsp. aloe vera gel, 4 drops lavender, 2 drops peppermint in a 1 oz. spray bottle, and fill the rest with distilled water.
DIY Sting and Bites Blend (from Essential Oils Pocket Reference, 7th Edition)
According to the Essential Oils Pocket Reference, 7th Edition, essential oils such as lavender and peppermint reduce insect bite-induced itching and infection.
10 drops Lavender, 4 drops Eucalyptus Radiata, 3 drops German Chamomile, 2 drops Thyme.
Apply 1-2 drops of blend neat or diluted 50:50 on location 2-4 times daily.
Insect Repellant:
Don't let bug bites ruin your family's outdoor fun this summer! Young Living's Insect Repellent is tested to repel mosquitoes, ticks, and fleas using only 100 percent naturally derived, plant-based ingredients.
Pure sesame oil and a carefully selected blend of essential oils traditionally used for their bug-repellent properties come together to make up all 99 percent of the active ingredients in this formula. The other 1 percent? Vitamin E. That means you can use it on your little ones and not worry about the synthetic chemicals used in many traditional repellents. You'll also love the pleasant, citrusy aroma and smooth, non-greasy, non-sticky application.
Read directions before using!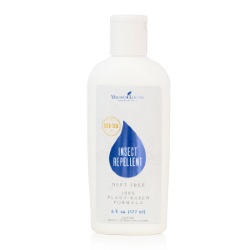 DIY Outdoor Spray:
Let the kids play outside with this easy DIY spray that helps you stay annoyance-free. Combine 1½ ounces witch hazel, 2 ounces water, 1 teaspoon vegetable glycerin (or carrier oil), 15 drops Citronella, 5 drops Cedarwood, 5 drops Eucalyptus Globulus  in a 4-ounce spray bottle. Evenly spray onto exposed skin, rubbing in as needed.
Source: DIY Outdoor Spray
I hope this was helpful! As always, if you have any questions, or want to order, feel free to reach out!
Happy oiling! 🙂
XO,
Kate
Disclaimer: The information contained on this website is not meant to diagnose, treat, cure, or prevent any disease.  The information represents what I, an Independent Distributor of Young Living Essential Oils, have chosen to do to take charge of my own personal health and that of my family.  Statements on this website have not been evaluated by the Food and Drug Administration. Products on this site are not intended to diagnose, treat, cure or prevent any disease. If you are pregnant, nursing, taking medication, or have a medical condition, consult your physician before using these products.
Information found on this site is meant for educational and informational purposes only, and to motivate you to make your own health care and dietary decisions based upon your own research and in partnership with your health care provider. It should not be relied upon to determine dietary changes, a medical diagnosis or courses of treatment. Individual articles and information on other websites are based upon the opinions of the respective authors, who retain copyright as marked.